6 Best WordPress Security Plugins 2017
Having your website take over by hackers is not what any webmaster dreams of. That's why it is important to make sure your website is secured. Thankfully if you run your website on WordPress, there are some security plugins to help you stay safe. These plugins will prevent code or SQL injection attacks.
Below are the best WordPress Security plugins that we think all webmasters should install on their Websites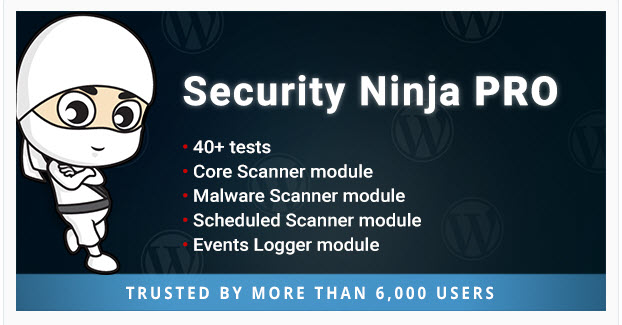 Check your site for security vulnerabilities with one click and get info on many security aspects. It offers suggestions on what you can do to fix any potential security issues. Security Ninja simply analyzes your WordPress site to find any exploits that may exist.
Features:
perform 40+ security tests including brute-force attacks
check your site for security vulnerabilities and holes
checks for Timthumb vulnerability
take preventive measures against attacks
don't let script kiddies hack your site
use included code snippets for quick fixes
extensive help and descriptions of tests included
Core Scanner module – compares all core files to their master copies on wp.org
Malware Scanner module – makes sure your theme and plugin files are clean
Events Logger module – saves every single event that happens on the site, including all failed login attempts
Scheduled Scanner module – runs tests on its own, so you don't have to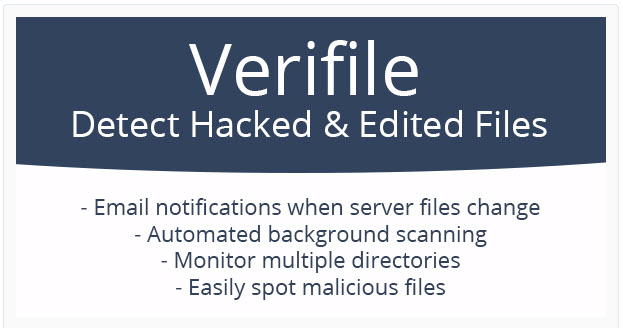 Verifile Security is the all in one security solution for database driven websites! It?s simple to use, and notifies you as soon as it detects either a new file, or a change in an existing one, via email. Verifile Security implements an ?install and forget? model, allowing it to run in the background without requiring any work from you!
Features:
Easy to install
New / edited / hacked file detection
Recursive file scanning
Immediate email notifications
Secure login system
Automated background scanning
No hassle & easy to use!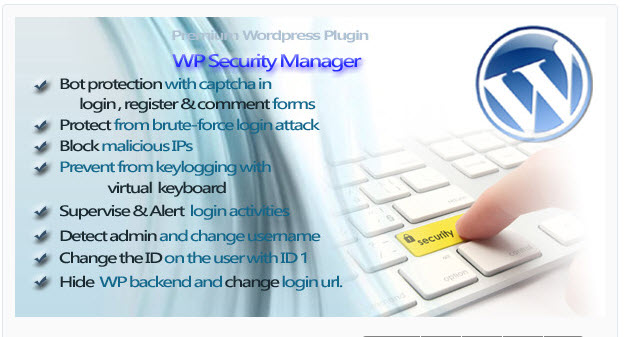 WP Security Manager is a WordPress Security plugin that provides all in one security solutions to your WP site.
Features:
Block malicious IPs both automatically & manually
Prevent from keylogging with virtual keyboard
Hide WP admin and change WP login URL
Bot protection with CAPTCHA in login, register & comment forms
Protect from brute-force login attack
Supervise login activities by screenshot
Alert via email with login attacks using screenshot
Detect admin and change username screenshot
Change the ID on the user with ID 1.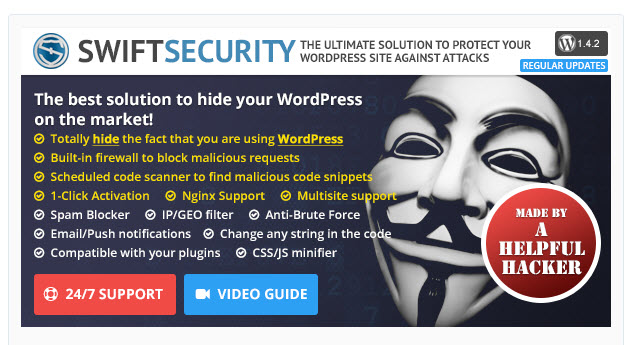 With the Swift Security plugin you can make your WordPress website more secure with a single click. A great advantage of the plugin is that you don't need any special technical knowledge.
1-Click Activation
Hide the fact that you are using WordPress by changing the default name of the directories and files, without having to modify your original structure (for example: wp-admin, wp-content). The magic happens on the fly.
Rename any file. (For example: You can rename the original readme.html without having to physically modify it.)
Change any string in the source code. This is useful when a plugin uses detailed CSS class names from which robots can determine that you are using WordPress.
Pre-configured firewall with security levels to filter the malicious attacks against your WordPress site.
IP/GEO Filter
Anti-Brute Force function
Comment Spam Blocker
Security logs
Email/Push notifications
CSS/JavaScript minifier
HTML Comment Remover
Code Scanner to find the vulnerabilities in your plugins and in your system. This feature comes with the possibility to schedule scans at different time intervals.
Import/Export settings
Automatic Troubleshooting
Custom Logout Page
Nginx Support
Multisite Support (apache only)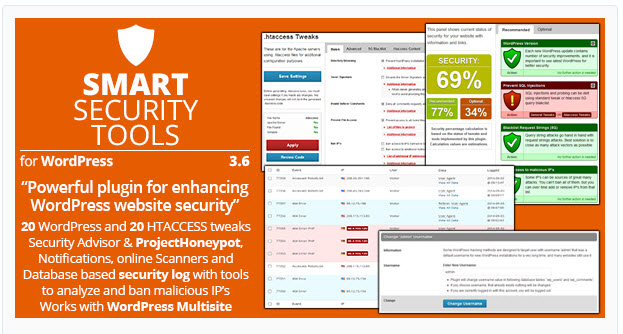 Smart Security Tools is a powerful plugin for improving security of your WordPress powered website. Plugin contains collection of tweaks and tools for extra security protection along with Security Advisor that can help you determine what needs to be done.
Smart Security Tools comes with the following features:
20 general and .htaccess security tweaks
20 security tests with Security Advisor
Tools to change admin or any username
Integrated Sucuri Free Security Scanner
Powerful database-based security log
Ban malicious IP's from security log
Support for WordPress multi-side mode
Export and import plugin settings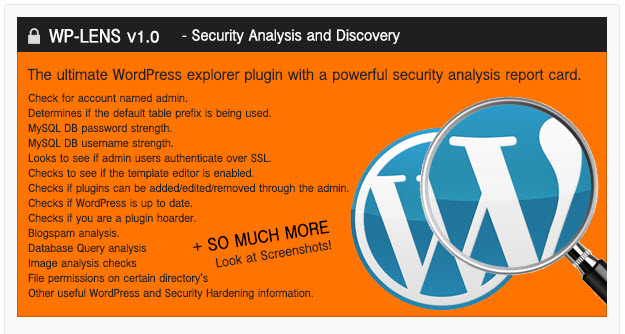 WP-Lens – Security and Analysis is the ultimate plugin for WordPress security analysis on your current theme and WordPress installation. WP-Lens combines a variety of checks and mechanisms that give you a clear picture of your current state of security and installation.
It comes with the following features:
Check for account named admin
Determines if the default table prefix is being used
MySQL DB password strength
MySQL DB username strength
Looks to see if admin users authenticate over SSL
Checks to see if the template editor is enabled.
Checks if plugins can be added/edited/removed through the admin
Checks if WordPress is up-to-date
Checks if you are a plugin hoarder
Blogspam analysis
Database Query analysis
Image analysis checks
File permissions on certain directory's
Other useful WordPress and Security Hardening information