6 Best WordPress Slider Plugins you should install 2017
Do you fancy sliders. ? Well they provide a awesome way to display images, videos or other content in an attractive manner on your website. If your WordPress theme doesn't have a slider built-in or you would just like to add something a bit more exciting then take a look at these best WordPress slider plugins that can bring your website to life.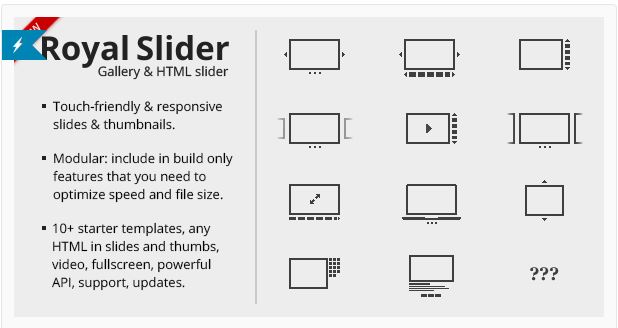 RoyalSlider is an easy-to-use jQuery image gallery and content slider plugin with animated captions, responsive layout and touch support for mobile devices. For its menu, you can use thumbnails, tabs or bullets. Use it as image slider, slideshow, HTML content slider, gallery, banner rotator, video gallery, carousel or even presentation.
RoyalSlider comes with the following features:
Touch navigation support for iOS (all versions), Android 2.3+, IE10, IE11, Blackberry and other OS and browsers that support touch or pointer events
Use any HTML content in each slide and each thumbnail (or tab)
Loads nearby images in background
Super smooth hardware accelerated CSS3 transitions
Full-screen feature with native HTML5 fullscreen support.
Perfect for photo gallery where you want to show high-resolution photography
Memory management – keeps only a few slides in display list
YouTube & Vimeo videos in slides
Deep-linking – link to specific slide from URL
Adjustable speed, transition and easing for each caption or slide
Static content for each slide is allowed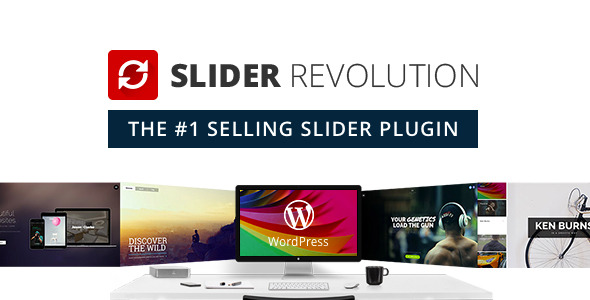 Slider Revolution is currently the top-selling plugin on Codecanyon. It is widely-used by theme authors on Themeforest. It is a responsive (mobile friendly) or full-width slider with must-see-effects. It also keeps or builds your SEO optimization (all content always readable for search engines).
It comes with the following features:
Brand new admin interface
Custom caption animation builder
Full slider import/export
3. LayerSlider Responsive WordPress Plugin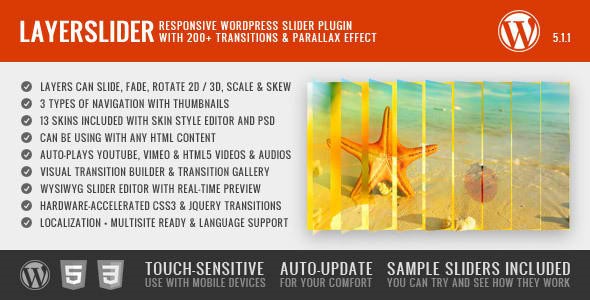 LayerSlider Slider Plugin is a premium multi-purpose WordPress slider for creating image galleries, content sliders, and mind-blowing slideshows with must-see effects, even from your WordPress posts and pages. It uses cutting edge technologies to provide the smoothest experience that's possible, and it comes with more than 200 preset 2D and 3D slide transitions.
LayerSlider Slider Plugin comes with the following features:
Build dynamic sliders from WordPress posts and pages
Static content
WYSIWYG editor with real-time previews
Timeline view
Multi-site ready
Translation and localization ready
Transition builder, Skin and CSS Editors
Automatic updates
Import / Export feature
Plugin Permission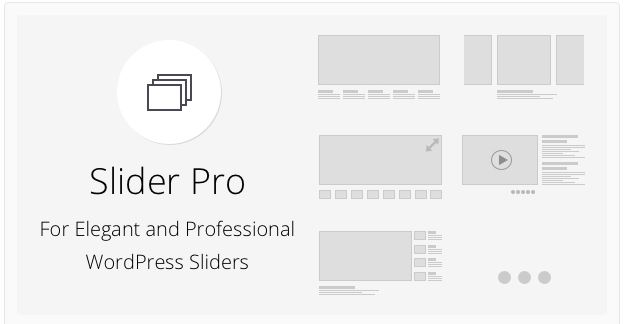 Slider PRO is one of the most powerful WordPress slider plugins in the market. The slider is fully responsive and mobile-ready. It provides 150+ options, 100+ possible transition effects, from simple 'fade', 'slide' or 'swipe' effects to more complex 'slice' effects, 15+ skins and much more.
It comes with the following features:
Responsive
You can add animated layers and static layers.
Dynamic content/Featured slider – Automatically load data from posts, pages and custom post types, based on any taxonomy.
Load Flickr photos based on Username ID or Set ID
Easily adds YouTube, Vimeo and HTML5 videos inside the layers
Touch-screen-enabled swipe effect that can work horizontally or vertically.
Thumbnails – Can be simple images or HTML thumbnails. The thumbnail scroller can be responsive and touch gestures are supported
More than 100 possible transition effects
More than 150 customizable properties. It's possible to set options per slide.
More than 15 slider skins and 7 scrollbar, few of them also providing color variations
Lazy loading – Set images to be lazy loaded in order to save bandwidth and loading time.
Fullscreen – Real full-screen capability in browsers that support HTML5 fullscreen.
Lightbox inside slider – Built-in Lightbox support, that supports a variety of content, like images, YouTube/Vimeo videos, HTML page
Multiple sliders
Keyboard navigation
Possibility to shuffle the slides
Slider Admin features

Responsive WordPress Retina-Ready CSS3 Carousel Plugin
Everslider – Responsive WordPress Carousel Plugin will help you create nice-looking, responsive and mobile friendly carousel slider from any wordpress post type to showcase your popular works in portfolio or to display recent blog posts.
Carousel from any wordpress post type
Comes with 4 pre-defined templates
Placeholders for creating custom slide templates
Fully responsive and mobile friendly
Retina-ready controls (PSD included)
Hardware CSS3 transitions with fallback to jQuery
Works in IE7+ up to Android and iPhone
Keyboard and mousewheel support
Drag and touchswipe support
Carousel modes + autoplay
Translable interface (translation files included)
Simple usage and clear documentation
JSHint compliant code
This is WordPress version of Everslider Responsive Carousel Plugin. jQuery version of this plugin you can get it here!
I made some screenshots in WordPress backend to demonstrate plugin functionality and available options. If you have any questions or need support, contact me and I'll be happy to help!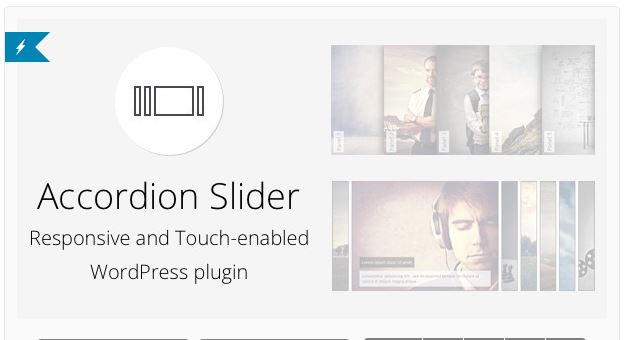 Accordion Slider is a fully responsive and touch-enabled WordPress slider plugin that combines the functionality of an accordion with that of a slider.
It comes with the following features:
Fully Responsive
Touch-enabled
Dynamic content
Automatic Updates
Add as many panels as you want without worrying about screen space.
Set layers to display when the panel is opened, or when it's closed, or all the time.
Caching – accordions are automatically cached for improving the load time
Inline help – instructions directly from the admin area
Load anywhere
Smooth animations using CSS3 transitions and RequestAnimationFrame
Retina-ready
Swap image – change background image when panel is opened
Keyboard and mouse navigation – navigate using the keyboard keys or mouse wheel
Lazy Loading
Lightbox – FancyBox is included and integrated with the Accordion Slider plugin
SEO-friendly
Deep linking
Change the accordion slider settings at different screen sizes
Powerful JavaScript API
Modular architecture – easily strip out code to reduce the JavaScript file size
Compatible with Multi-Site environment
Import and export
Action and filter hooks